THE FIRST DIGITAL CLINIC OF ITS KIND TO OFFER A MINDFUL APPROACH TO PSYCHIATRY + WELLNESS
our PHILSOPHY
We're pleased to offer psychiatric and psychological services in the comfort of your home via our easy-to-use webcam interface.  Our team has experience diagnosing and treating nearly every mental health diagnosis.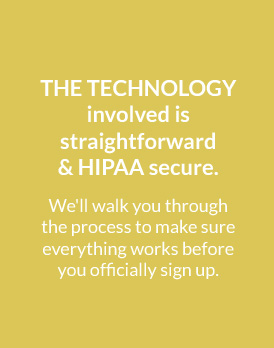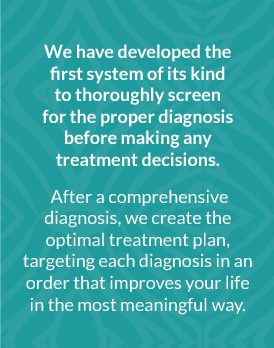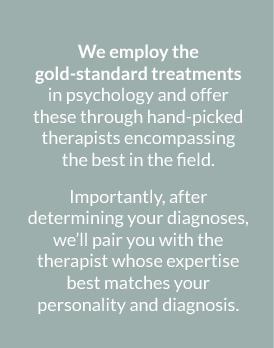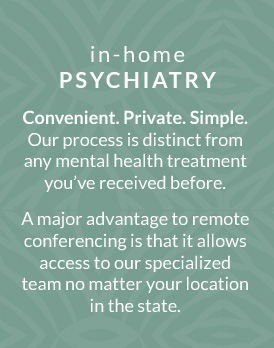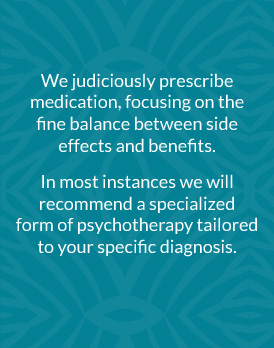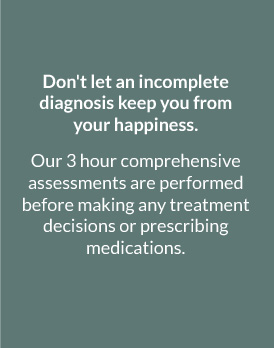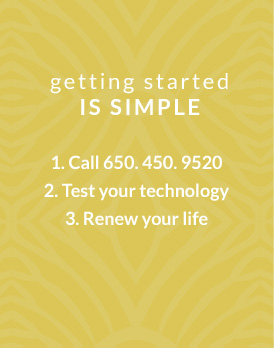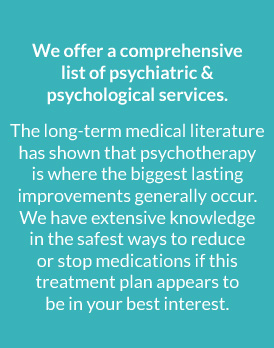 CALL US AT: 650-450-9520
or Enter Your Phone Number and We'll Call You Back Immediately. If it's after 5pm (PST) we'll call as soon as possible during the following day's business hour.
our SERVICES
We begin with a three hour enhanced diagnostic interview with a focus on screening for nearly all possible psychiatric diagnoses. This step is performed BEFORE a treatment plan is drafted or medications are written in order to formulate an efficient plan of care that is specifically targeted to you. This includes medication management focusing judicious medication use, as well as Cognitive Behavioral Therapy (CBT).
CBT for Depression
CBT for Panic Disorder (i.e. "Panic Attacks")
CBT for Generalized Anxiety Disorder
CBT for Phobias
CBT for Social Anxiety Disorder
CBT for Psychosis
(i.e. CBT for Schizophrenia)
CBT for Nicotine Dependence
Exposure with Ritual Prevention EXRP) for
Obsessive Compulsive Disorder (OCD)
Exposure-based Treatment for Compulsive Hoarding
Grief, Loss, and Bereavement Counseling
Treatment for Impulse Control Disorders
ADHD Life Skills Training
DBT-based Life Skills Training
Mindfulness Skills Training
Any diagnosis requiring an inpatient level of treatment  or an intensive outpatient clinic will not be able to be treated via teleconferencing and will require a referral to higher level of care within your community. Some services that cannot be performed via teleconferencing include advanced treatment of eating disorders such as Anorexia, Dialectical Behavioral Therapy (DBT) and Prolonged Exposure (PE) for PTSD. In select instances we can coordinate our psychiatric/medication services with a specialized outpatient provider in your area. For example, if Prolonged Exposure (PE) is indicated, this may be an option. Although we can treat nearly all indications, if we cannot treat you through teleconferencing we will make every effort to diagnose you accurately and develop a treatment plan to forward to a provider in your area.
no stress TECHNOLOGY
The technology involved is straightforward and we will walk you through the process to make sure everything works before you officially sign up or pay for anything.
Our teleconferencing platform is HIPAA compliant and secure. Most home setups work out-of-the-box but occasionally you will have to buy an inexpensive webcam for ~$20 in order to improve the quality of your experience.
Additionally, an at-home blood pressure cuff may be needed for ~$40 or in some instances we can simply interface with your PCP for this information.
rates & INSURANCE
In order to ensure that we have ample time to provide the quality of service we strive for, we do not accept insurance directly. However, most of our clients with PPO insurance plans get some or most of their appointments reimbursed, when they submit a paid receipt to their insurance company. We understand that insurance is confusing and we'll gladly call your PPO and figure out what your estimated out-of-pocket expense will be (if any) before you sign on with us.
Diagnostic Assessment with Dr. Struble $600




(Includes approximately 1.5 hour questionnaire for you to fill out on your own, 45 minutes to review and 2 hours of direct contact to solidify the diagnostic picture.)

Medication Management &/or Therapy with Dr. Struble $300/hr

Therapy with Psychologists $150 – $250/hr

Therapy with Licensed Clinical Social Workers $95 – $150/hr
are you a DOCTOR?
Please download our comprehensive PDF>
To find out exactly how Renew Telehealth fits into your practice and call 650-450-9520 to schedule a Q&A with Dr. Struble.
After you provide us with a referral, we'll set up an appointment to test your patient's internet connection, computer, and webcam to make sure they can access our services.
Most of our patients with PPO insurance plans are reimbursed for some or most of their appointments. We understand that insurance is confusing and we'll gladly call the patient's PPO and figure out what their estimated out-of-pocket expense will be (if any) before they sign on.
We will also gladly provide brochures and holders for your office at no charge. (Pictured here)